Dr. Zhong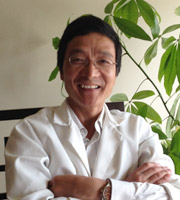 Dr. Baisong Zhong grew up in the Sichuan Provence of China. He received his medical degree from Luzhou Medical College and a Masters as well as a PhD in Internal Medicine from Chengdu University of Traditional Chinese Medicine. While there he specialized in the treatment of immune disorders using Chinese Medicine. His studies were extensive and included not only Traditional Chinese Medicine but Western Medicine as well. In the teaching hospitals where he was on staff, patients had the advantage of being able to receive medical care in a collaborative fashion.
During my first year of study at American College of Acupuncture and Oriental Medicine (ACAOM) in Houston, Dr. Zhong moved to the United States to work at the college. His easy-going nature made him a favorite amongst students and patients alike. During my time there we became good friends.
He generously offered to help me establish a clinic in Baton Rouge, and over the course of the first year that the clinic was open he drove over from Houston on a monthly basis to work weekends with me. His support during that time helped me get the clinic off the ground. He still manages to come to Baton Rouge three or four times a year, despite working full-time at ACAOM and seeing patients several days a week at his own clinic in Houston. To be able to gain his insights into a patient's condition based on his depth of experience and knowledge has been invaluable. I am extremely grateful to have him as a friend and mentor.